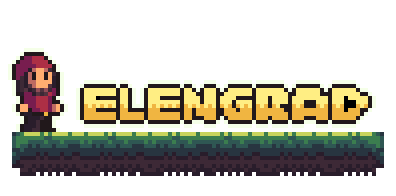 Elengrad
Version: 0.93 (Updated Beta) Please notice this game is fully playable yet it is not complete. Several major updates are planned. They will massively change the game experience thus I invite you to re-play the game as soon as it is considered 'ready'.

Backstory
Elengrad was once a dangerous land. Full of magic and monsters. Good King Borgar seeing people suffering and fighting hard for their lives decided to send his best warriors to destroy all the evil in the world. And it worked. The land became safe and people were living happily. Or so it seemed...

Good King Borgar died of age and so most of the brave warriors did. Short after that all evil returned. Sons of the ones that once defeated dark forces decided to travel the world and help poor, unprepared people.
And so did Eric. This young, brave man decided to return to a small village he used to visit often in his childhood. What problems will he find there? What secrets will he discover?
Featured
Every video below contains MAJOR spoilers!
Gameplay by Button Pushin' Cushion:
https://www.youtube.com/watch?v=BOsSD8r_xWc (game v. 0.9)

https://www.youtube.com/watch?v=1Y4XV3JRtSg (game v. 0.9.3)
Gameplay by MilkAndBanana:
https://www.youtube.com/watch?v=OQ7BB3g9DGo (game. v.0.9.3)
https://www.youtube.com/watch?v=bxeWA6ZiVOw (game v.0.9.3)

Credits
Game design, art and implementation:
Music:
Roadmap
Released 24.09 General Gameplay improvements - this will include minor fixes to many areas of the game including:

Adding a Campfire next to second boss area;
Reviewing certain dialogues - if possible making them shorter;
Increasing slightly the range of the weapon

Released 24.09 Mobile support - the control for mobile will be added!
Released 24.09 Combat enhancement - this will be a game changer. The combat will be more dynamic. This will be achieved by introducing minor variations between attacks (animations) and knock-back after the enemy is hit.
Map extension - this update will significantly increase the size of the map. This will enhance "Metroidvania experience". At this moment the map is quite linear and the player has no real chance to get 'lost'. Some secret area will be introduced. This will introduce several new items (including ranged weapon).
Future of Elengrad
If you would like to know what is the situation of the game click here.
Known Bugs
Critical priority:
Game progress impossible when dying at the same time as Goblin King.
High priority:
Game sometimes crashes when entering the "Dark Hills" region (available only with Angelic Boots). This has been reported ONLY on Chrome and only by individual players. Currently I am not able to work on this bug as it does not appear on any of my machines.
Player gets stuck when reading signs on mobile.
Low priority:
In one of the Dark Hills levels sword is shown as wooden sword.
There is no way to press 'up' when using chest when playing on mobile. This is low priority as there is not much use of the chest in this version of the game.